The Mailman delivered Christmas in July!
I had been out running errands today and having lunch and met the new mailman who delivered two boxes. Spock was supposed to arrive about two days ago from Barbie Collector but he was late, they use Fedex smartpost which is sometimes not that reliable on their projected delivery dates. He's AMAZING.
I also received my three W Club Integrity registration dolls. I caved and purchased all three dolls. Poppy, Vanessa, and Imogene. They were worth it. I had thought I might have to sell them but I'm not giving any of them up right now since I have had to sell some of my dolls recently.
I have not taken them out of their boxes YET. I want to do some stunning photos of them, and I am probably going to buy another Spock because of his box art. My husband saw him and said I shouldn't remove him from his box.
Poppy Parker Goes to Paris....Her Window box is Back! with the cute little black bow up at the top! She is adorable.
There is something so cute and delicious and Petticoat Junction about this doll. I adore her dress. I know she's supposed to be in Paris but she looks all Ellie May Clampett and cute and country to me. Adorable and chic and country. What do I know. I love pink and blonde hair. lol.
Next up is Vanessa. I love her eye shadow and that outfit is unusual. Looks like a throwback to the extravagance of the suits of the 50's . I like the severe chignon too and her makeup. I couldnt resist her.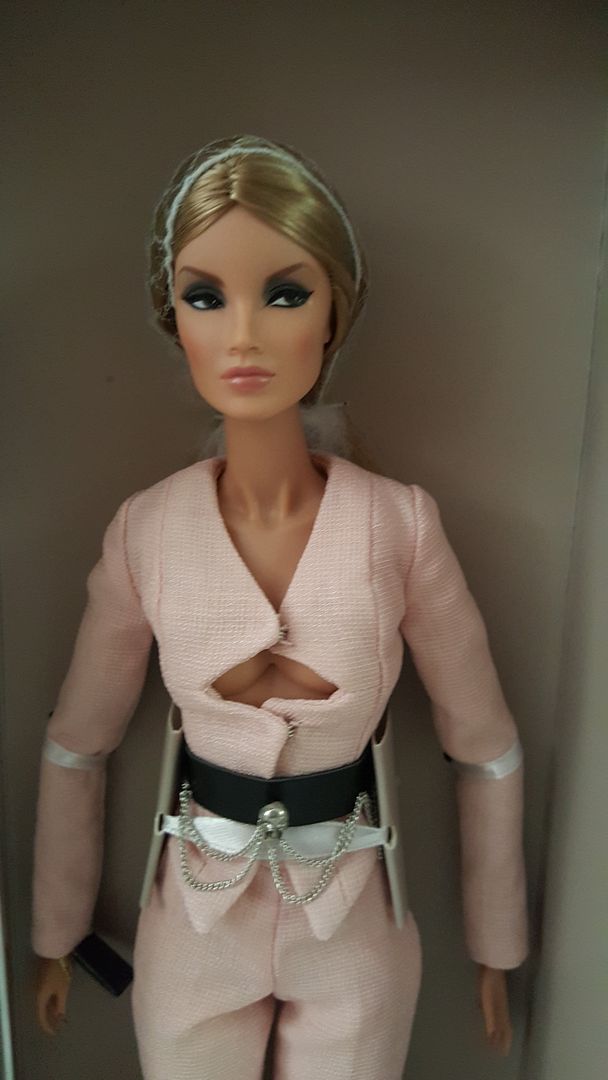 NuFace Imogene is so lovely,and cool. I am not into over tanned dolls with side glances. But she grew on me with the outfit and and the skull jewelry. Plus her hair is lovely too. She will probably be a keeper. Sometimes they don't get the hair right on their tanned dolls and it looks weird to me for some reason. But she looks spot on.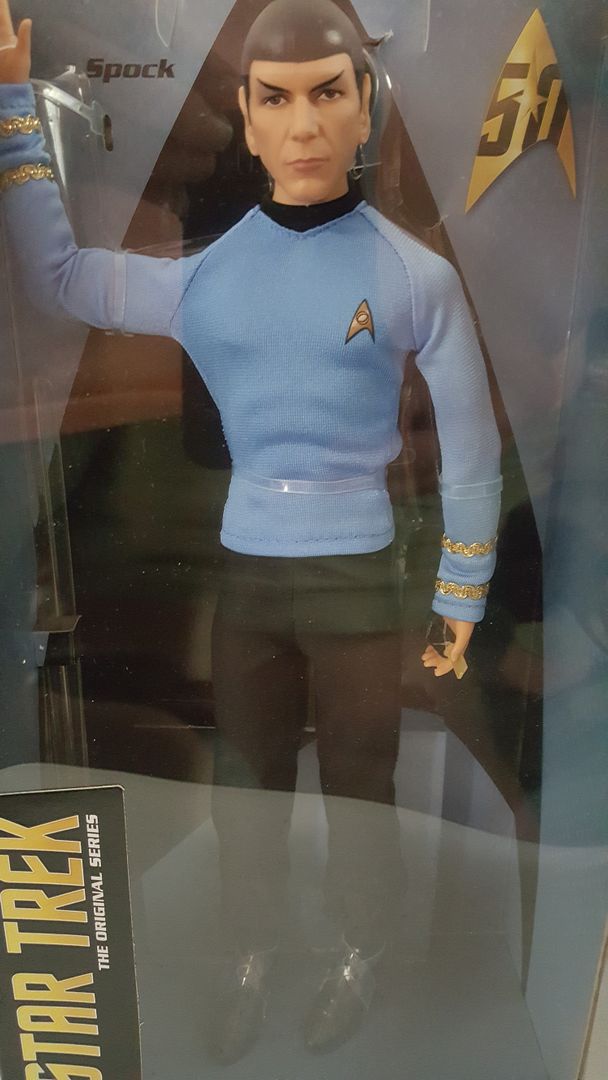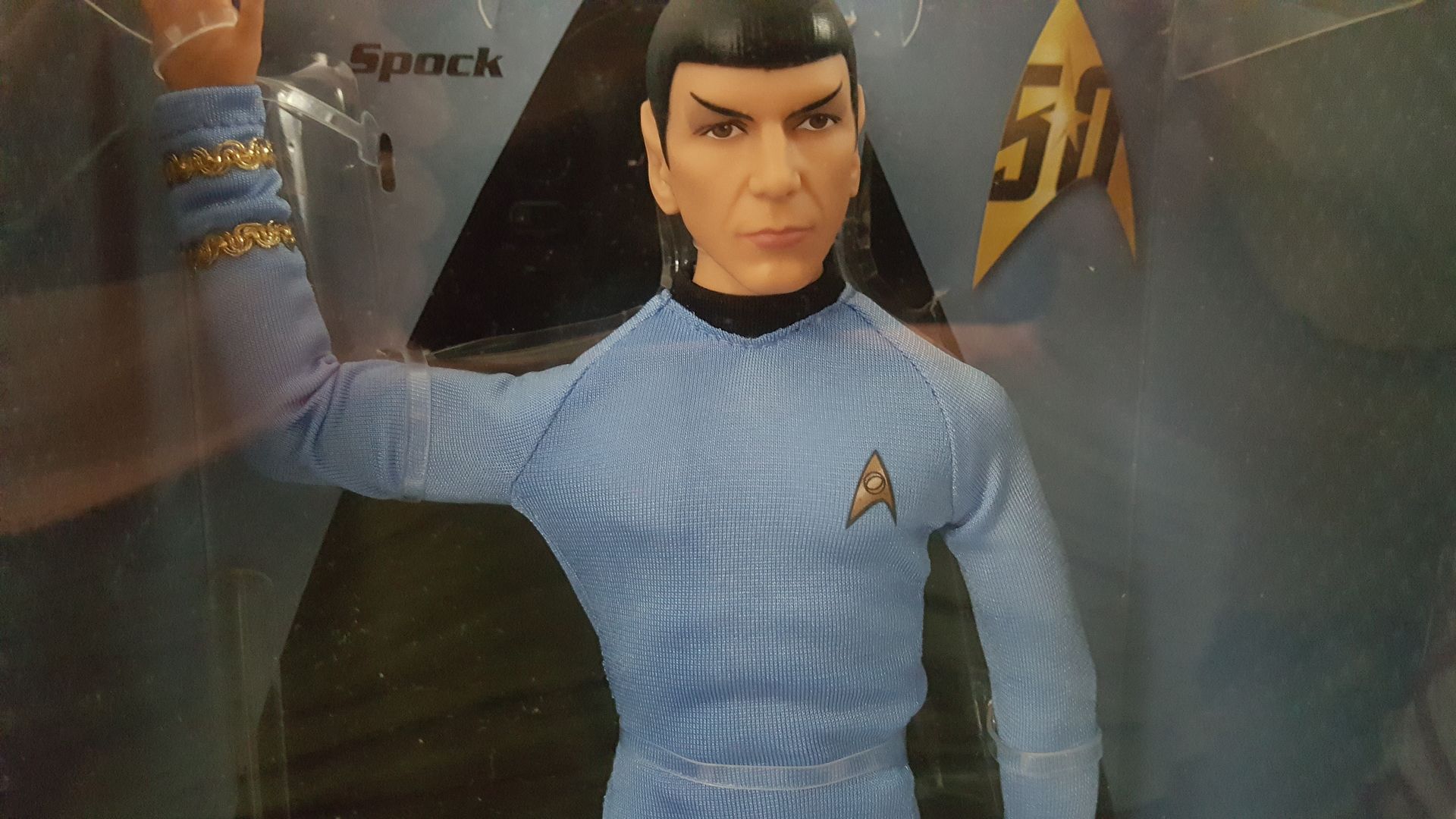 Mattel's Spock of Leonard Nimoy. I really really love him more than I thought I would, from Barbie Collector.
Side graphics of Nimoy from the side of the box.....incredible 60s glamour.
Back of the box with Nimoy's image on it and the Star Trek story....
My husband said I shouldn't debox him and this now just gives me a reason to buy another SPock and have one to keep in the box and one to play with...lol.
With free shipping in July, I still need to order Uhura and Kirk, so I better get the funds moving.
I will get more better pics of each doll up and moving when I decide whom to de-box first. It will probably be Ellie Mae Poppy, LOL.
Lisa