....and I unfortunately have had no time to blog! This past week in October has been extremely busy, with limited time to enjoy my long awaited arrivals. When the first doll in the Holiday hostess series- Thanksgiving Feast Barbie arrived, I knew she would look great with Mad Men Pete Draper. Here are some scenes I set up using my vintage Sindy kitchen I could not find where I had stored the oven unit. My repro Becky makes a great teenager.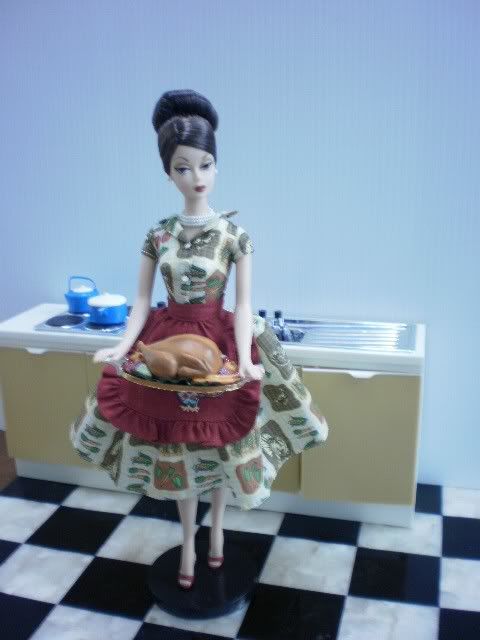 I used a checkerboard placemat I had picked up on sale at Pier 1 imports and used some foamboard around the kitchen scene-
table and chairs are Rement. I am tempted tomake up a Thanksgivng card this year using her- she is so very adorable, and reminds me of how my mother dressed in the late 60's for holidays. Things were more different then.
On another note, Felicitys' Tea table and chairs and her tea gown arricved! I was so glad these did- as it will look wonderful in our dining room at the holidays. I have been watching and collecting up items before her archival, so haven't been making too many purchases as far as my 1:6 scale dollhouse goes because of priorites in my dolly world. lol! Here are some of the pics..
Felicity is somewhat special to me since Williamsburg is my all time favorite place to go ever since I was a kid. I live in King William County which has great historical signifigance, and Felicity would have known of it- we have the oldest still in working condition courthouse in the USA- it was built almost 300 years ago. I live about 40 minutes away from Williamsburg, so it is easy to get there. I hope to take more pics of Felicity andmy other historical, Rebecca soon, and post them here. Enjoy the pics!