Well, some new dolls have arrived this week with the Barbie dream sale once a year at http://www.barbiecollector.com/ with my $20 rewards coupon, and an additional 25% off I was able to get the Silkstone Mad Men Don Draper, and the Mad Hatter which I had been wanting for a long time for my Alice in Wonderland diorama I am collecting for. I finally got some time to take pics of my new doll today and the detail on his outfit is very awesome, way to go Mattel. I also love the fact that he is articulated like the W club dolls. Here are a few pics of him along with one of the Moxie girls dolls dressed like Alice, her large head fits that
Alice look or feel that Lewis Carroll tried to get across in the book. My felix Brownie BJD tiny, Dixie, will be dressed as Alice in one of the scenes I am planning when I need a very tiny Alice. The papers behind the Hatter are from Memories Galore scrapbook store, I thought it cool that there would be an Alice in Wonderland halloween paper.
I loved this closeup picture with him holdng
the teapot, it looks so real.The one with the scattered tea things on the web covered tea table is a Bespaq tea table I customized by painting it black and covering it with spider webs.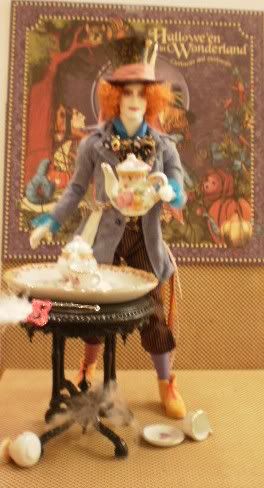 Those are the pics of the hatter, and boy did I have fun today taking them! I love this doll, he is so wacky and he looks so like Johnny Depp. I would love to do ascene where he is chained to the table and making hats. They really should have done the Red Queen and White Queen like Tonner did.
I had some other wanted dolls arrive as well, like the Don Draper from the Mad Men series. I wasn't too satisfied with the pictures I took, so those will be for another post! But we did have a long awaited younglady arrive, after three long weeks of waiting...A Pleasant Company Felicity Merriman- a win on Ebay!
As you can see, Rebecca, another historical, and Felicity's tea set,and her tea treats, arrived before she did! Though this is the one sixth scale dollhouse, I may soon have a 1:3 scale dollhouse. Gracie, my resident MSD bjd, tolerates the vinyl 'chunky girls' as she refers to them. Rebecca was too good of a deal on QVC to pass up, she came with her accessories, her lunch bag, and her school outfit! I am still trying to gather up enough funds to spare to bring home Elizabeth and some of the clothing items for Felicity as well. These historicals are special to me simply because the story takes place in Williamsburg, which is about forty minutes away from us here in King William County. Our courthouse is one of the oldest courthouses still in use in the nation, it was built in the late 1600's or 1700, thereabouts. Also, Felicity and Rebecca look awesome with the Bespaq in the shop!