I somewhat commandeered the post yesterday on Barbie's birthday and used an old photo from my archives, since I hadn't done any new set ups for her. Later in the evening after I had finished celebrating my anniversary, I pulled my new Barbie The Look articulated dolls out and did a little scene where Barbie is celebrating with her friends.
I have been following @barbiestyle on Instagram and really love how they use these dolls and variations of them. They are sneaky and use one of a kinds that are never manufactured and sometimes dolls they are going to debut on Barbie Collector, like the new Russian Model doll that has been unveiled. When I saw this Barbie Look Barbie on instagram, I knew I wanted her, especially when she was re-dressed. She is really cute.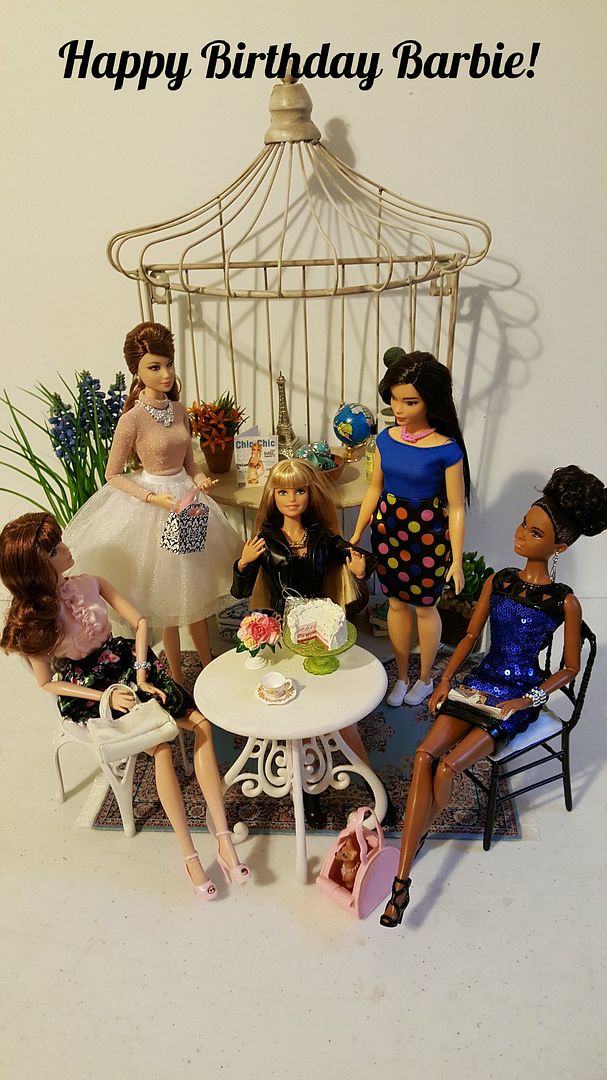 Click on the pictures to enlarge them, I used my cell phone to take these.
I used all four of the Barbie Look articulated dolls, I won the one standing in the back in the tulle skirt at my Barbie club meeting last year's raffle. The other three I purchased by great good luck at Tuesday Morning for 14.99 or less! I three in a new Fashionista curvy girl to give contrast in body and face mold and interest to the party.
I am looking forward to getting the two new Basics that have been debuted as well, just have not got around to it as I am waiting on Barbie Collector to get their act together. I will probably join again this year, if there is a club- but it is already going around that there will not be a first reward, and many are speculating that there will not be any reward perks this year, if any. I only join the club because of the silkstones, and the fantasy Forest series, and the rewards perks off of the pricey dolls. Hopefully the club will be giving us some news soon.
Enjoy the pics!Lisa