This morning I was in the mood to go to a few yard sales near my shop, since it was early on Saturday morning, and the weather was great. Driving to my old neighborhood near the elementary school- called Lakeside Elementary, was a very large garage/yard sale. I saw many things I had to pass up- but could not pass up this vintage Suzy Goose set- the armoire, vanity stool, and chest!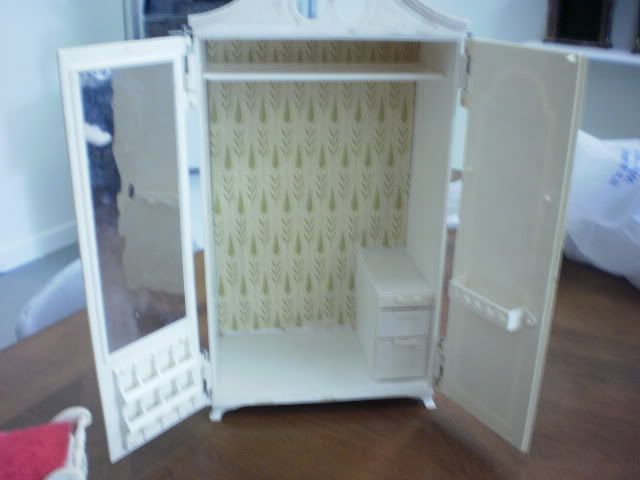 As you can see, it has alot of yellowing and staining on the exterior of hte armoire, yet the stool is in mint condition. I paid $15 for all three pieces! I figured that was about $5 per piece, no cracks or very bad staining, and I could afford to repaint the armoire at this price!
I posted the pics on Doll Divas message board, and Diva Details Audrey gave me some great tips, as did other board members on how they painted their pieces. Painting them wasn't the actual problem, but I hesitated because the original wallpaper in the armoire was intact, and it didn't seem like it was coming out. I may just sticky tack some miniature wallpaper over it, on a piece of posterboard, so the original paper is preserved.
I have been collecting items for a scene recently, for a storyline in the one sixth scale dollhouse- Luchia and Career girl Barbie have decided to team up and sell bags, purses, shoes on Ebay with their new laptop computer that came with the barbie basics sets I ordered! This armoire will probably be in the girls' dressing room (originally meant to be Skipper's bedroom!) & one of hte French tables will be used as a laptop desk. I have always wanted to do a shop scene with my dolls, but never had the time nor the props!
Will show more pics after the base coats are applied, and more pictures later. Enjoy!
~Lisa