Festive Decadence Agnes von Weiss arrived today, and this is my first giftset since becoming a member of the W club a couple of years ago. I am really excited they decided to do an Aggie as the giftset, I missed out on the last one.
So of course I set up some props, but my other Agnes couldn't let Haute Couture come into the Maison de la Royale without grabbing, and High Tide Vanessa joined in also.
The fashions were utterly gorgeous, I also bought the Festive decadence, and the quality was amazing!
here is the purple suit that came with the gift set, on High Tide Vanessa-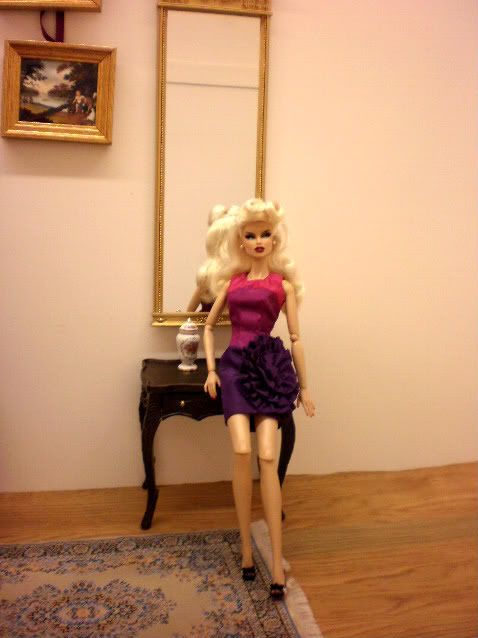 my other Agnes in the festive decadence fashion
I loved this pic of Vanessa in that purple suit. It has a tight top with puffed sleeves, but it looked so much better with just the top and skirt-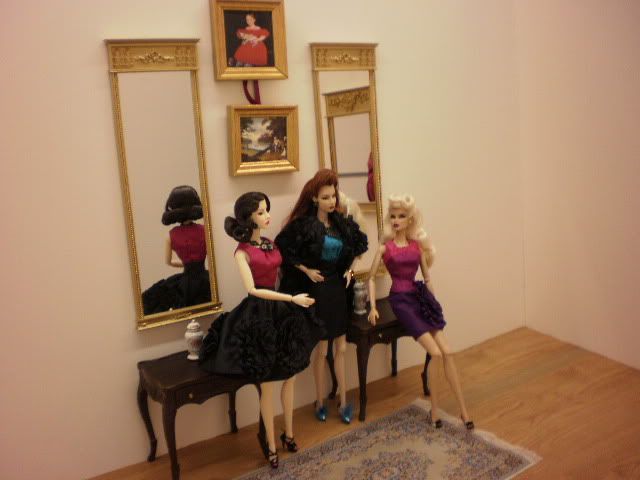 I know it's been a long while since I posted here on the blog- and now I have something to post about! She will definitely be figuring in a new photo story I want to write, with my two Aggies. I have decided that the 'new' Agnes should be renamed as 'Lady' Agatha, Agnes' cousin from the UK, (haven't decided where yet...)
I hope you enjoy the photos of the new doll!
~Lisa
Props: Tables, Bespaq French table, available on my website at kingwilliamminaitures.us or my ebay store Pumpkin Hill Studios http://tinyurl.com/yjvz65 Mirrors: Jim Coates Miniatures, (also on Ebay), rug, dollhouse rug, vases, Ruetter Porcelain ginger jars, pictures, from souvenir shop in Williamsburg.