My feet are killing me in these designer W shoes!
Agnes: A nice long drag on a Marlboro is what I need...maybe the Marlboro man too....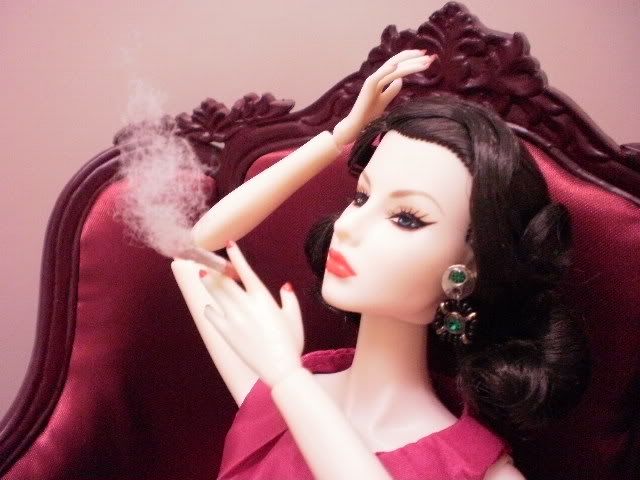 Agnes: Wow, what a b@#! of a day! I need a drink and a drag wouldn't hurt either!
Once again, my new Festive Decadence Agnes is making her own statement. Right now she's 'thinking' of moving into the villa- her cousin the Baroness can't convince her that it's for the best.. but you know Aggies- they gotta rule the roost!
I myself have had a hard few weeks, what with moving the store, and everything in it- including the one sixth scale dollhouse. Right now it is a mess- and needs to be restored to its party pad glory....in the meantime, I took some tips from FDQ in Focus- that is one marvelous book! and decided to play yesterday. My thanks goes to Em'lia for her tutorial on how to make cigarettes- check out Em'lia's blog Creazione in the blogs that I follow- her tutorial is in her flicker album.
More pics of this can be found in my flicker album-
http://www.flickr.com/photos/77099712@N00/
ENjoy the pics!~
~Lisa